From time to time, I share some behind-the-scenes insight into  running a creative business.  This post is also part of a blog tour for April Bowles-Olin's upcoming CreativeLive class on creative marketing. You can read more about April's class at the end of the post. Enjoy!
******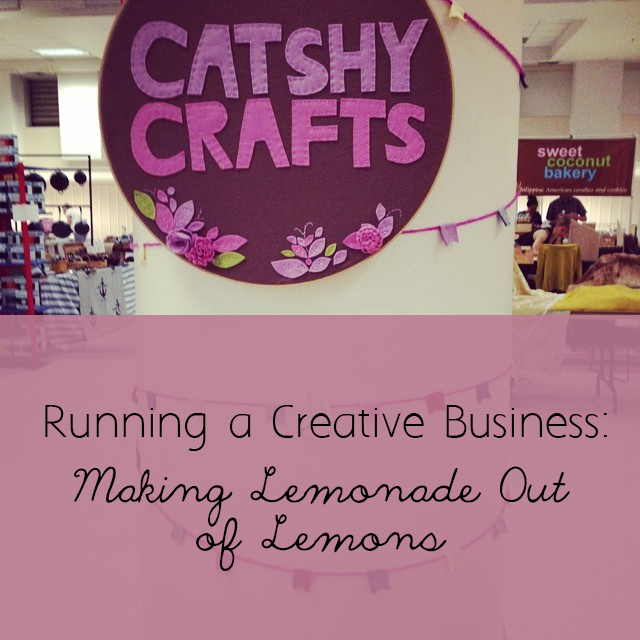 Getting accepted into my favorite craft fair in the summer of 2014 was a dream come true!
I had visited this fair as an avid fan and customer for years and I often imagined what I would do if I ever had a booth. I had visions of a beautiful display full of my handmade items. Of course, I would get hundreds of visitors to my booth and I would sell out of many of my handmade goodies.
Unfortunately, the dream did not match up to reality. Although I had many visitors who complimented my work, I barely made back the booth fee (the money I paid to vend at the fair).
As I stood by my booth on the last day of the craft fair, taking photos of my booth, chatting with customers, I hatched a plan.
With all my wall art and door wreaths on display in one place, I realized I would have a lot of inventory left over. I had been posting photos of my set-up throughout the weekend and gotten lots of hearts and positive comments on Instagram and Facebook.
Rather than go home crushed that I didn't make the sales I dreamed of, I would try to salvage the weekend.*
I would take advantage of all the hard work I had put into my booth display and making inventory and try another way to get some sales.  I would make lemonade out of lemons! So, while still at the sale, I made the decision to host my very first Insta Sale on social media. Yes, an Insta Sale! A way for my followers to "shop my booth" from the comfort of their own smart phones.
*Don't get me wrong. I am so glad I have this craft-fair-selling experience under my belt. I met many wonderful people and fellow makers. And the experience of being in the show and being listed as a vendor on the craft fair's website led to another one of my dreams being realized as well as many other opportunities! Let's continue.
HOW DID I DO IT?
I created a separate Instagram account and posted photos of each item with a description and price.
To sweeten the deal, I offered a small discount PLUS free shipping (to the U.S.) and a free gift (felt flower). I also posted on Facebook, where I got additional sales from my Facebook fans on my Catshy Crafts page.
To buy an item, the customer had to be the first to comment beneath the post with her e-mail address. I would then send a PayPal invoice. Once payment was received I would ship the item.
To my surprise and delight, I made more during my Insta Sale than I had during my craft fair! I made my booth fee back and then some!
WHY DID IT WORK?
I believe it worked for a number of reasons.
I built up excitement days before the fair (for my handmade items). This was even before I announced a sale because obviously I didn't know I was going to have sale at this point. I showed my followers the hours of preparation for the fair, the set-up, and the buzz during the craft fair.
I created a sense of urgency for my items (only the first person would "win" the item). I only had one of each item so you had to act fast to get the item you wanted.
Many of the items for sale were created specifically for the show, so there were lots of brand-new, never-been-seen items, but also some of my most popular items.
My special offers – a small discount, free shipping AND A free gift.
This was my first Insta Sale ever. It was novel way to shop for my items without the go-between of Etsy.
I created mini ads for my Insta Sale using photos of my items and text overlaid on top using an app called WordSwag.
I had a captive audience of followers who could participate by hearting or buying an item. Even if they didn't end up buying, it was a fun way to interact with me and my other followers. I answered questions almost immediately and thanked people for commenting.
Since then I haven't been able to replicate that success. I've had a handful more Insta Sales since, but none have been as popular as the first one. The other ones were not "Shop My Booth" sales, so perhaps did not have the same buzz as my first one did. I even tried a weekly Insta-Sale – one new item each week. Perhaps in the future, I will make it once-a-year event to make it more special.
MY TAKEAWAY?
The biggest lesson I learned from this experience was not to be afraid to try a new marketing tactic when you're not getting the results you want. Craft fair not working? Try an Insta-Sale! (I'm sure I'll get lots of ideas from April's new class.)
When life gives you lemons (which in and of themselves are awesome!), make lemonade. A new twist on what you're doing can shake things up for both you and your customers and lead to great things!
*****
DID YOU LIKE THIS POST?
Check out these other blog posts I wrote about how creative businesses can use Instagram.
*****
This post is a part of the Double Your Followers blog tour to spread the word about April Bowles-Olin's upcoming CreativeLive course. Does hearing the word 'marketing' make your armpits start to drip with anxiety? Are you terrified of sounding salesy or like you have the personality of a dead blowfish? If so, come join me and 2,500+ entrepreneurs who're taking April's latest CreativeLive course, Double Your Followers with Creative Marketing. You can RSVP and watch for FREE. Yep, free. High fives, wildflowers, wine samples. Who doesn't love free?"